When the "drive by" challenge was first proposed by Melissa at
The Inspired Room
, I knew immediately which porch I would "shoot" first. (Click on her link to enjoy the tour!)
Every year, the family that lives near the High School decks out their porch & yard for the big Homecoming Weekend.
After that, I took the camera with me on errands, back & forth from Marching Band, to work (ok, admittedly making me a tad late on a day or two), on extra drives around the town.
I found a number of porches decked out for Autumn. Some of the pictures are a bit blurry, unfortunately, as I had to zoom quite a ways to try & get a good shot.
I chose my favorites, broke them down by category, and here you have it: My Autumn Drive By.
Best "Themed" Porches. Special merit for most original use of a pot belly stove for the porch in the lower left.
Best "Curb" Appeal, for the porch decorating that started at the street.
Best Wreaths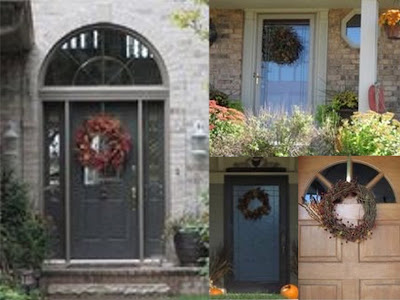 Best "Extended" Porches
And My Favorite Porch Overall, closeup.
Phew! Now my daughter can stop hiding under the seat when I drive!